Here are a couple more pieces I just finished. I've already priced them and taken them to
Lalah V's
but woke up this morning thinking of two wonderful places to put them in my own home. If you walked into my house today...other than the mess in the garage and in my office...you'd never know what I've been up to.
First up, the pie safe. (Forgot the before pictures, but this did have doors on it. I took them off to use in another project)
I glazed both the inside and outside of the piece and lightly distressed it. I used vintage sheet music to create the tree. The picture of the details really didn't turn out great, but it looks pretty amazing in person-if I do say so myself :). It's not pictured, but I glazed over the tree to bring out the edges of the sheet music leaves and branches.
Next up, the table. I love the lines of this table. Especially the legs.
Yes...I pulled out the painters tape again!
I knew what I wanted to do with this piece as soon as I saw it. I pulled inspiration from some pictures I saw from a store called
I've been sweeping up the dust from distressing my Annie Sloan Chalk Paint pieces and this is what I've accumulated so far.
I needed a color wash for this piece, so I thought it would be the perfect time to try out a technique I read at
Paint in My Hair
. I can't find the post now, but I just added hot water and put it in my little bullet blender until I had the consistency I wanted. Talk about recycling!
This is how it went on.
It needed some color, so I added a yellow and a blue color to the 2 smaller boards on the top. I sand off a lot of the paint to make it look old and worn out, peeled off the tape and Voila!
I did end up having to sand down and re-stain the legs. Once I peeled off the tape I realized that the base was much more yellow than the top.
I finished this one off with a couple coats of poly. I know I say this about every piece, but I really do love this one. It would be a great coffee table. It's a little on the tall side, so kids chairs fit perfectly under it for a play room or kids room table.
Thanks for stopping by!
Sharing at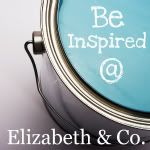 Miss Mustard Seed